OUR STORY

Let's First Introduce Our Tropical Manor STARS! Our Dedicated and Genuinely Guest Service-Oriented Staff Make Your Stay at the Tropical Manor Truly Enjoyable and a Vacation to Remember!

Our Front Desk/Guest Service Team
will Make You Smile! We can't wait to Speak with You on the Telephone and Help You Select the Room Which Will Best Suit Your Needs. You will Feel a Genuinely Warm, Southern Welcome when you stay with us at the Tropical Manor. YOUR Satisfaction is our Utmost Priority! Just let us know what You need to make your stay most enjoyable.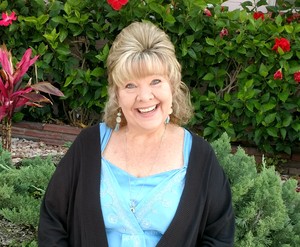 Sara
- Assistant Manager - is an extremely Dedicated and Loyal member of our TM Team! Sara leads the daily operations of our Front Desk ensuring an exceptionally warm welcome and consistent, high quality service for our guests. Sara is Infinitely Sweet, Superbly Professional, and Pleasing to Our Guests. Sara's beautiful voice and warm smile will shine through on the phone and will immediately make you feel appreciated and at home during your vacation at the Tropical Manor.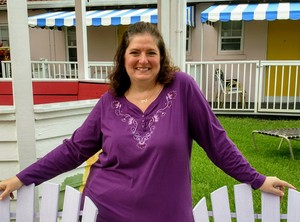 Marge - Always Pleasant and Willing to Learn Something New. Marge has a true passion for taking care of our Guests!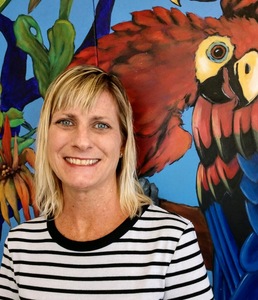 Melanie - Melanie is a gem. She is so pleasant, connects extremely well with others, and has fantastic local knowledge!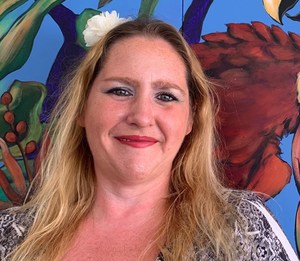 Rebecca - Rebecca joins us during the summer of 2020 as our Front Desk/Reservations Project Manager. Rebecca is incredibly sweet, very professional, and loves to take care of our Guests. She has many years of hotel Front Desk experience and will be helping us transition to a computerized reservation system later this year. Please warmly welcome Rebecca to our Tropical Manor Family.
Our HOUSEKEEPERS
- Full of Boundless Energy and Enthusiasm for Providing You a Very Clean Room and an Exceptionally Comfortable Stay!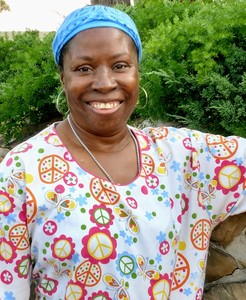 Sonya
- Ray of Sunshine and Energizer Bunny - always smiling, loves her work, a constant blessing to us and each of our guests!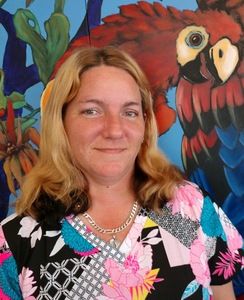 Erika
- Always Positive, Fabulously Dependable, Willing to Help Wherever and Whenever Needed! Great Attitude!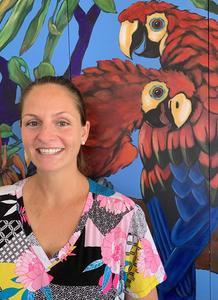 Janelle - Wonderful, young mother. Positive and very pleasant! Does a fabulous job cleaning and preparing our guestrooms.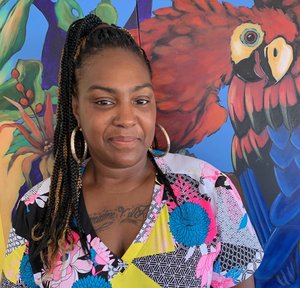 Armaine - Grew up in beautiful St. Thomas, U.S. Virgin Islands, and brings with her great housekeeping experience at lovely, small resorts. Armaine is very sweet and does an incredibly professional job on our team!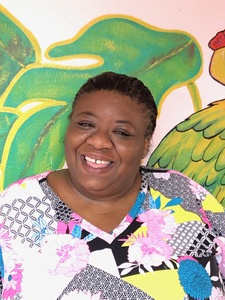 Bridget - Has a smile that lights up the room! Bridget has extensive cleaning experience from her work at Bethune Cookman University. She is very enthusiastic about her work. I really like having her on our Tropical Manor Team!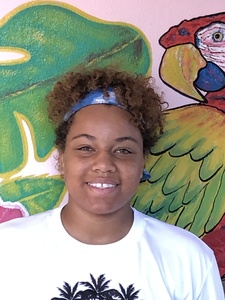 Karlee - Is Willard's daughter. This is her first job. It's a joy to have Karlee with us during the busy summer and when we have large projects. Karlee is full of energy and is incredibly eager to learn and help out in all sorts of ways!
Our Maintenance Staff - We Can't Say Enough about Willard and Jay!
These are 3 of the hardest working men on the planet. They are Beyond Dependable and are Truly Dedicated to Our Guests and their work at the Tropical Manor. You will see them busily tending to all of our beautiful, public areas, ensuring that our oceanfront pool and barbecue area are clean and ready for you to enjoy. They make sure that all the items in your guestroom are in good condition and working appropriately. They love to welcome our Loyal, Repeat Guests back every year!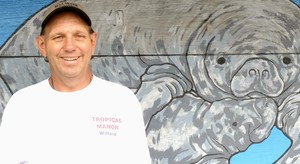 Willard
- Loyal and True - Always Positive
and Hard at Work Keeping Our Public Areas
Beautiful for Our Guests!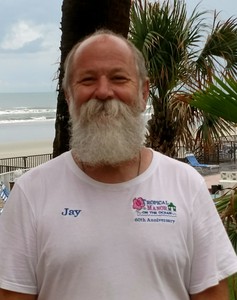 Jay - Outstandingly Helpful - Loves His Work and Making Sure that Our Guests Have a Most Pleasant Stay.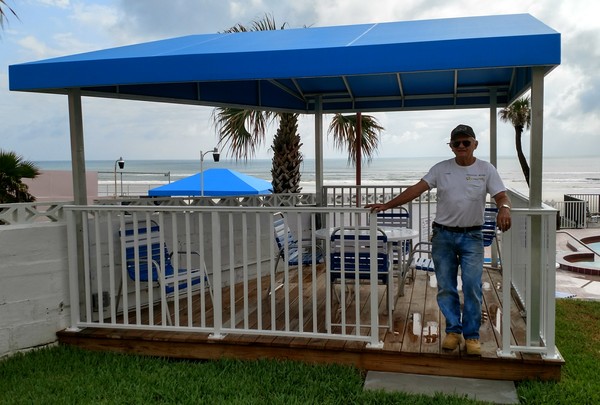 JOHN - our Chief Engineer - Constantly Busy Planning Our New Improvements and Major Repairs, and Excited to Share Them with Our Guests. We are So Pleased to Have John's Knowledge and Expertise on our TM Team!
The Tropical Manor - A Love Story
Audrey and Alfred Kelleman fell in love with the Daytona Beach area when they honeymooned in Daytona Beach. It was such a happy time! Alfred served in the Navy during World War II and had many fond memories from the leaves he had taken in Daytona Beach. They decided in 1956 to purchase Tennessee by the Sea, a small 6-room motel directly on the ocean in Daytona Beach Shores, and renamed it the Tropical Manor. They selected Daytona Beach Shores because it was close to all the action in Daytona Beach, but quieter and more family-oriented. Alfred made Daytona Beach his home base while he continued his career as a pilot for Flying Tiger Airlines commanding stretch DC-8 cargo planes from San Francisco to Hong Kong. Audrey made excellent use of her skills as a Registered Psychiatric Nurse to operate the Tropical Manor and welcome its guests. Audrey and Alfred's parents and other family members followed the couple to Daytona Beach as well and became well established as electricians, lawyers, and judges.

Audrey and Alfred purchased adjoining property to enlarge the Tropical Manor and provide a wider range of comfortable and affordable accommodations including Charming Garden View Cottages and Oceanview One Bedroom Suites.

The twins were born on July 6, 1968 when "Little Audrey" and Aileen joined the family. Alfred and Audrey had a very special pool designed in the shape of a bell and a kiddie pool to provide enjoyment for the twins and our guests. Pauline St. Sing was brought on board to help Audrey with the children and operate the Tropical Manor. Many of our older guests will remember Polly with her pretty Southern dresses, beautiful blue eyes, and her warm and friendly smile. The twins and all of our guests absolutely adored Polly.

1972 was heart-breaking. Alfred died of a heart attack on February 5, 1972 while Alfred and Audrey were attending the wedding of one of Audrey's brothers in Chicago. Audrey faced running the Tropical Manor on her own with 2 young 3-year-old daughters. Many people advised her to sell the motel. Audrey persevered with God's care and pressed on, a talented businesswoman and super mom!

Audrey met Watkin Judson Dando at Trinity Lutheran Church, a handsome and well regarded businessman, owner of a local State Farm Insurance office. Judd loved boating and NASCAR races and gallantly served our nation in the Coast Guard during World War II stationed in New Smyrna Beach. Audrey and Judd married joyously in 1976. Audrey made room for her new spouse and her rapidly growing number of loyal, repeat guests by constructing the "40 building" in 1976. This expansion provided Spacious, Modern 1 and 2 Bedroom OceanFront Suites with Private Patios and Balconies.

Aileen always wanted to be "just like Mom". Judd's sister-in law, a professor at an all-girl's college, told Aileen about Cornell University's Hotel School. It became Aileen's lifelong dream to study at the Cornell Hotel School. She was extremely tense when the thin envelope arrived on April 1, 1986. But, she was accepted! Aileen's twin sister, Audrey, an animal lover, was also accepted as a pre-veterinary major to Cornell University's Agricultural School. Audrey was so proud and relieved that her two daughters were accepted to such an outstanding university and would be going off to college together.

"Little Audrey" is now a graduate of the University of Florida Veterinary School and is a Veterinarian and Assistant Professor at the University of Florida, specializing in large animal reproductive medicine. Aileen honed her hospitality skills after graduation in management positions with the Walt Disney Company, Loews Hotels, and the Intercontinental Hotel Group. Aileen is delighted to work side by side with her mother to own and operate the Tropical Manor. Aileen's older son, Benjamin, an Environmental Health major at Western Carolina University, also works at the Tropical Manor during portions of the summer in a wide range of guest service and operations capacities.

We take great pride in your decision to select the Tropical Manor for your vacation. Our goal is to provide you exceptionally warm and friendly service, clean and comfortable accommodations, and a uniquely inviting setting. We look forward to sharing the joys of a Classic Beach Vacation with you and your family for many years to come!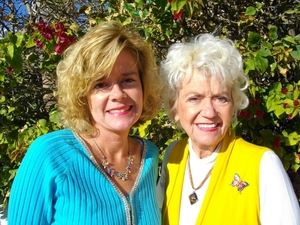 Aileen and Audrey - Owners / General Managers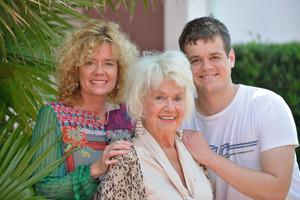 Aileen, Audrey, and Aileen's son, Ben
Aileen's sons - Bradley and Ben. Both are now Eagle Scouts.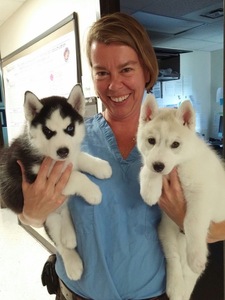 Audrey's other twin daughter, Dr. Audrey Kelleman - Veterinarian and Assistant

Professor

at the University of Florida Veterinary School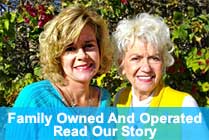 From Our Guests
"I have never stayed in a hotel that has made me feel so at home, all the extras they do for you are great. The staff is the best, I'll never stay anywhere else when going to Daytona. I'm glad we found…"
Yvonn & Mike Barnett
Neville, OH
11-25-2009
Read More


Email Offers
STAY & WIN join our newsletter to win free stays


Sign up for our FREE newsletter and receive updates on our specials, news and TROPICAL MANOR frills.